Please put your bins out by 7am on your collection day

Make sure your bin lid is closed, otherwise it will not be emptied

All houses in Sheffield have blue and brown bins for recycling and a black bin for general household waste.
Other types of recycling including textiles, and plastic items such as tubs, pots and food trays can be taken to a Recycling Site to be recycled.
Here's a handy guide of how to use your bins
When will my bins be emptied?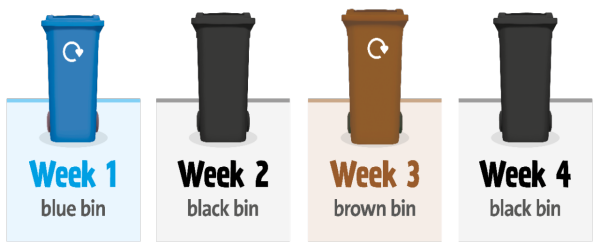 One of your bins will be emptied each week. Your black bin is emptied every 2 weeks and your brown bin and your blue bin will be emptied every 4 weeks. Find your collection day.
Top tips:
You can apply for help if there is no one in your household able to present your bins for collection due to an age-related or medical reason. 
If you live in a large household and your bin is not big enough, you can apply for extra capacity.
You can put your house number on your bins so they don't get lost after collection.
If you move house your bins must remain with your old property.
If your black bin is too big, contact us to order a free smaller replacement. 
Most of the residents living in Sheffield have a recycling service.

We are working closely with Sheffield Housing Services to put in place a recycling option for those currently without a full service.
The Assisted Collection Service is provided for householders who are unable to take their bin to the kerbside because of disability or ill health.